Van Interiors & Customization by Kargo Master
Explore our inventory of shelving and custom accessories to fit your van
Customize your new or used van with Kargo Master components is quick and easy.
Van Interiors & Customization by Kargo Master
Why Professionals Choose Kargo Master:
Kargo Master products make your job easier by outfitting your vehicle to help accomplish your tasks. Since the 1970s, the company has steadily improved designs and processes based on customer feedback. The goal? To provide the best in truck and commercial van shelving, cabinets, drawers, ladder racks, equipment, and accessories. The result? Streamlined styling and reliable assembly without compromise on strength or security.
Why Professionals Choose Kargo Master: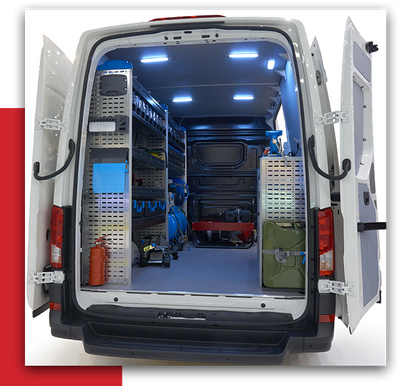 Why Should You Choose Hostetler as Your Installer?
As an official Kargo Master distributor, Hostetler Truck Bodies & Trailers will provide reliable, quick service. And our sales team stands ready to ensure that you get the right combination of products and accessories to match your application. You can count on us to do the job right - the first time.
Scroll down to see just a few of the available products and packages for your van or work truck.
Van Interior Packages and Components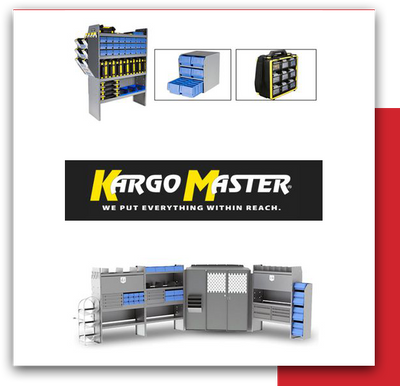 The Products
Kargo Master offers a variety of shelving and custom accessories to fit your van and your occupation, including:
Ladder Racks
Roof Racks
Interior Partitions
Job-Specific Shelf-Drawer Combos
Platform Body Legs and Bars
Service Body Legs and Bars
Shelves and Shelf Dividers
Drawer Bins
Drawer Cabinets
Refrigerant Tank Racks
Cabinet Lockers
Spindle Wire Holders
Mounting Hardware for Custom Designs
Hanging File Folders
Binder Racks
Floor Mats
Safety Grabs
Security Latch Kits
Much More!
Kargo Master Website Links:
Van Interior Packages
Van Equipment
Van Exterior Racks
Truck Racks & Equipment
52" W x 46" H x 14" D Shelf Unit with Security Option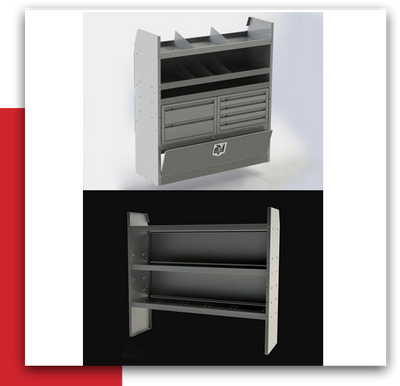 The Process
Customizing your new or used van with Kargo Master components is quick and easy.
Create Your Features List
You can work with a Hostetler sales representative to create your custom list of required features. Or you can browse the manufacturer website to acquaint yourself with the available products and packages. Products and packages are organized by vehicle make/model and by job/occupation/application.
Select Your Product(s)
Once you have a good idea about what you want, select the product(s) or package that best fits your vehicle and/or occupation. After you've made some initial choices, we'll help you finalize your selections and determine an installation schedule that fits with your vehicle purchase timeline or availability.
Provide a Vehicle
For new van or truck purchases, we will work directly with the Dealer to obtain and complete the work on your vehicle. You will be notified when the work is completed.
For retrofits, we'll contact you when parts are in-house, and you can drop off your vehicle at your convenience.
HD Aluminum 3 Long Floor Drawer
The Long 3-Drawer unit provides ready access to equipment and parts while standing outside the van. Each drawer comes with an automatic stop and is accessible from a standing position outside the van.
Specifications:
Heavy-duty 58 long three drawer cabinet can be installed on the floor behind the bulkhead (side-door pull out)
Unit includes one 11" deep drawer and two 5" deep drawers. Includes 4 drawer dividers per drawer