Tell us your dream.
This web page will help you through the process of selecting your ideal trailer by providing information about several categories of trailers commonly sold through Hostetler Truck Bodies and Trailers.
We also provide a trailer FAQ and links to related vendor websites. If you have any unanswered questions along the way, please reach out to our sales team via the Contact Us or Get a Quote pages.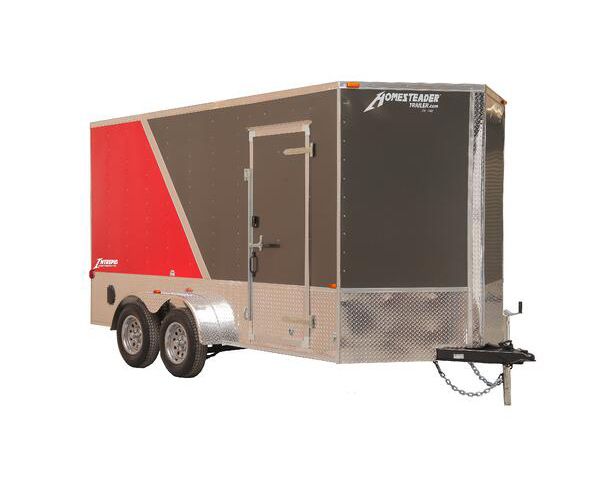 ENCLOSED TRAILERS
An enclosed trailer is defined as a "dry box" on wheels that is road legal, usually has an aluminum exterior, a side and rear access, and is of sufficient height to stand up inside. Carrying capacity varies widely depending on the trailer model and manufacturer.
In terms of trailer styling, in recent years, the "V-nose" has become the preferred nose style, although a traditional radius front is still better suited for many commercial applications.
Enclosed trailers are generally constructed with a steel frame and an aluminum exterior.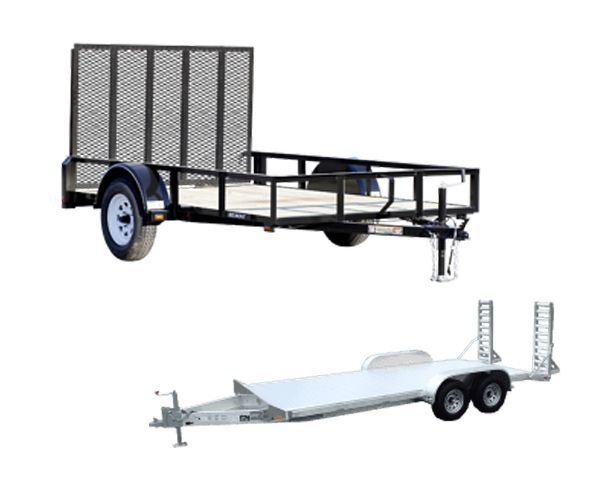 UTILITY TRAILERS
Utility trailers are lighter, open trailers that are available in a large variety of sizes and prices.
Depending on the towing application, these trailers can be customized with numerous accessories provided by individual manufacturers. There is certainly a utility trailer available to fit each tow job and budget.
Work with your Hostetler sales representative to find the ideal blend of functionality and styling.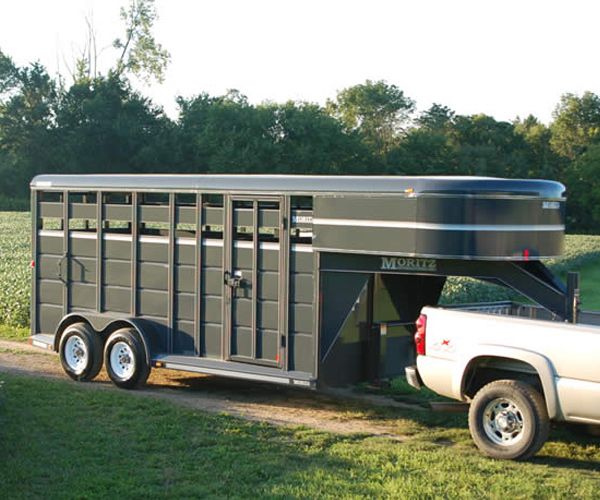 LIVESTOCK/HORSE TRAILERS
Horse trailers vary in size depending on the number of animals to be transported, although two-horse trailers are the most common. A horse trailer is typically 7' in height.
Livestock trailers usually feature a center slam gate, typically dividing the trailer into 7' or 8' sections. A common size is 16'. Livestock trailers are generally 6'6" in height.
We offer livestock trailers by reliable regional suppliers. Talk to our sales team about sizes, styles, options, and delivery times.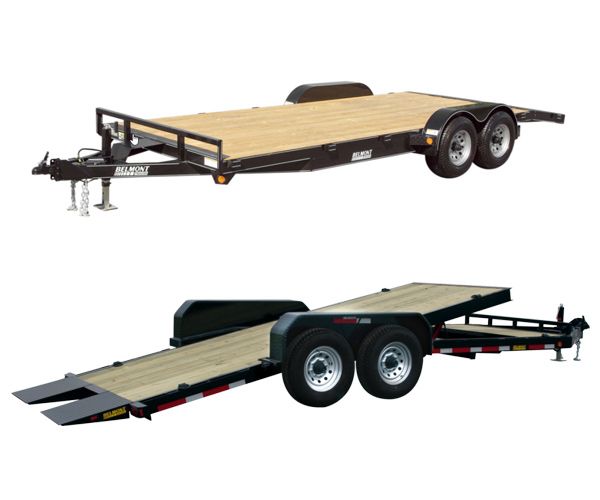 SKID LOADER TRAILERS
Most skid loader owners are looking for a trailer that is low to the ground with room for attachments and is extremely durable. Skid loader (or skid steerer) trailers come in a variety of shapes and sizes to conform to the specifications of the loader and the required level of stability.
A popular category of skid loader trailer is the tilt trailer, which is designed for rapid off-loading of its cargo through the use of a tilt mechanism. Skid loader tilt trailers are commonly available in lengths from 16 to 24 feet. This style of trailer may include a cushion cylinder, allowing it to tilt more smoothly.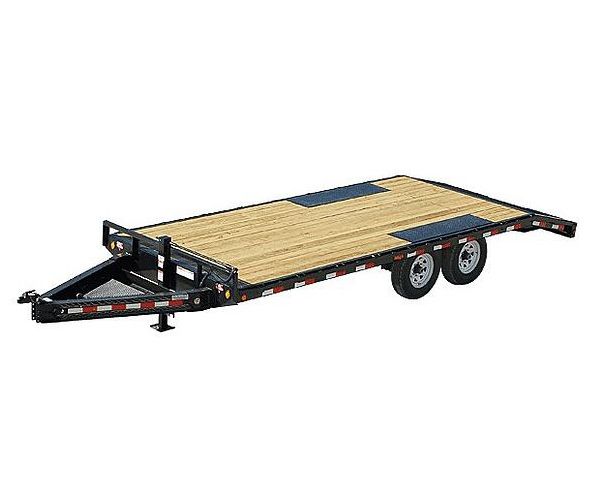 DECK-OVER TRAILERS
A deck-over trailer is designed with the wheels underneath, permitting the greatest possible unrestricted loading width. Deck-over trailers are ideal for loading small excavators and backhoes, rollers, pallet material, tractors, and other larger cargo.
Deck-overs are usually sold in single-wheel configurations for loads under 16,000 lbs or twin (dual)-wheel configurations for loads up to 24,000 lbs. Common loads include:
Backhoes
Larger Bobcats
Mini-Excavators
Pavers
Pallet Materials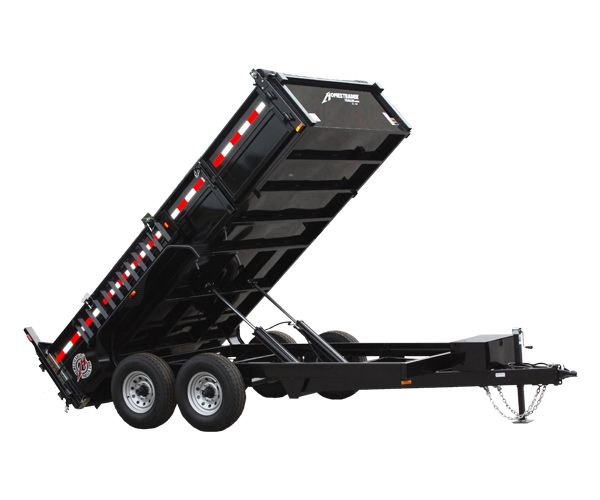 DUMP TRAILERS
A dump trailer is defined by the presence of an electric hoist which will tilt the trailer bed up to a 45-degree angle, quickly and easily removing the contents without the effort and time customarily associated with unloading.
Dumps are becoming more common as they can also perform tasks similar to an equipment or utility trailer, making a dump the closest thing to a universal trailer.
Dump trailers mainly come in two styles:
A deck-over (DO) would be a dump with the wheels tucked underneath the bed, saving the approximately 18" width of a set of fenders, and making the overall width about a foot narrower than a low profile, and sitting up about 4-6" higher. This is nice for parking in the street or negotiating narrow clearances. It can be a bit more tippy or top heavy, but does a better job dumping on piles, and has the advantage of being lighter (and often cheaper) than a low-profile dump trailer.
A low-profile (LP) dump trailer refers to a dump with the wheels outside of the frame, making the trailer lower to the ground with a wider stance. This makes the trailer very stable, and its low stance makes it ideal for loading equipment. A low-profile dump is generally about 18" wider overall than the box size.
Regardless of trailer type, for larger loads, gooseneck hitch configurations like the one pictured above are recommended for towing stability and improved turning radius, and are most common in 25-32' lengths.
Frequently Asked Questions
Should I buy an aluminum or a steel trailer?
It depends on what you are looking for, and how much you want to spend. Aluminum trailers often weigh less, are more corrosion resistant, come with more standard features, and often have better craftsmanship; however, the price for an aluminum trailer is often nearly double that of the comparable steel trailer. And steel construction is more durable and forgiving for heavy-duty applications.
What tongue weight can I expect for my trailer?
For a conventional bumper pull trailer, you can estimate the tongue weight as 10-15 percent of the trailer weight. For a gooseneck (fifth-wheel) trailer, the tongue weight is higher; generally between 20 and 25 percent of the trailer weight. Don't forget to add this number to your cab weight when determining if you are exceeding the Gross Vehicle Weight Rating for your truck!
How much can my car/truck tow?
The best place to find a definitive answer for the towing capacity of your vehicle is in the owner's manual. The Gross Combined Weight Rating (GCWR) of your vehicle is the maximum combined weight of your vehicle, your trailer, and all contents.
Often you can look for a label on your factory-mounted hitch receiver for a quick way to determine the hitch capacity, including the maximum gross trailer weight and the maximum tongue weight you can carry on a standard ball mount. There may also be specifications on the label for a weight distribution hitch system, which is often used when pulling a recreational vehicle.
How do I properly care for my steel livestock trailer?
You can add years to the life of a trailer by keeping it clean. No magic, just a mild liquid soap and water. Make sure to rinse the undercarriage thoroughly with a hose, especially if you are travelling salted roads in winter weather.
You should routinely check trailer tire pressure as well, since under-inflated tires generate more friction when they're spinning on the road. That friction can speed degradation, leading to a blowout. Also, an under-inflated tire will flatten under a full load, which can lead to trailer sway.
Recommended Vendor Websites
Click the Manufacturer logo below to visit the company pages.



A Word About Towing
What's your GVWR?
Manufacturers will provide a Gross Vehicle Weight Rating (GVWR) for the vehicle you are using to pull.
This number is not its towing capacity, but rather represents a maximum value of what your vehicle can safely weigh including payload. This would include the tongue weight of the trailer, which is the amount of the trailer weight that is distributed to the tow vehicle. The remaining trailer weight rests on its axles.
For example, your truck may have an 'empty' weight of 5,500 pounds (often called a "curb weight") and a GVWR of 7,000 pounds. This means that you can safely add an additional 1,500 pounds of passengers, cargo, and tongue weight without exceeding the GVWR.
Gross Combined Vehicle Weight Rating (GCVWR)
The GCVWR is how automakers list the maximum allowable weight a vehicle can tow, and is defined as the maximum weight of a loaded vehicle AND its attached loaded trailer. And like the other weight ratings, the vehicle's manufacturer calculates this number.
For example, if a truck's GCVWR is 14,000 pounds and it has a base curb weight of 5,000 pounds, that means the vehicle can safely handle an extra 9,000 pounds of cargo and trailer weight. However, it doesn't matter (to a certain point) where that cargo is placed. If a passenger weighing 200 pounds sits inside the truck, that 200 pounds has to be subtracted from the truck's then-available GCVWR. Owners must be mindful not to exceed the GVRW and/or the GCVWR.
Automakers usually publish tow ratings that account for a driver and one passenger, each weighing 150 pounds, and a full tank of fuel. So, if you're going to tow a trailer that weights exactly what your vehicle is rated to pull, you'd better leave the family and their luggage behind. Continuing with the example, if a truck has a 15,000-pound GCVWR and it weighs 6,000 pounds empty, plus it's loaded with 4,000 pounds of cargo and passengers in the bed and cab, it can pull a trailer weighing no more than 5,000 pounds.
Please contact your vehicle manufacturer if you have any questions regarding the GVWR / GCVWR for your vehicle.