Browse Flatbed/Platform Bodies by our Vendors
Scroll down to find what you're looking for.
Click the Get a Quote button at the top of the page to share your interest with us.
Platform bodies are useful for a variety of different jobs. Add an integrated gooseneck hitch for high-performance towing with your vehicle. Most manufacturers provide multiple options for sides and tailgate if desired. Models included on this page are some of the more popular ones - many others are available through Hostetler. Make sure to read the Vendor section of each listing for additional information on related models, accessories, and options.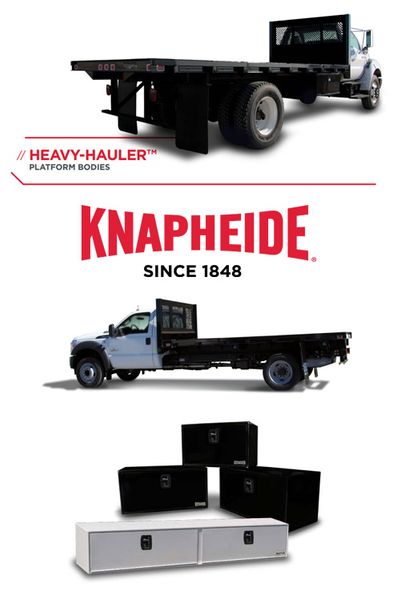 Knapheide PHHS-224B Heavy Hauler Platform Body
Description
The Heavy-Hauler™ (PHH Series) is Knapheide's most rugged platform, designed to handle the most severe of hauling applications. It has been engineered to work in both hoist and nonhoist applications.
Features
Structural channel cross members are spaced on 12" centers. Heavy duty, reinforced external stake pockets are sized to accept 2"x 4" lumber as well as a variety of Knapheide side options. External rub rails constructed of 3/8" steel are located on both sides of the platform. The model pictured here includes an optional toolbox mounted under the bed on the passenger side.
Specifications:
Length: 22'-4"
CA: 160-192"
Weight (mild steel): 2800 lbs
Accessories
Knapheide Toolboxes
Multiple Bulkhead Styles
Steel Stake Racks
Receiver Hitch (click for full vendor accessories listing)
PHH models are available in 12'–26' lengths and are compatible with dual rear wheel chassis.
Series Specifications:
Clearance and marker lights meet FMVSS 108 requirements
Multiple flooring options included treated 2" yellow pine, 7 gauge mild steel, and 3/16" steel treadplate
Structural long sills with gusseted cross members - 5" on 12' and shorter platforms; 7" on 14' and longer platforms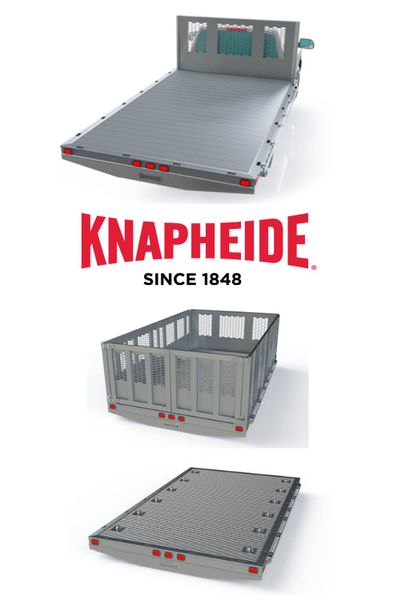 Knapheide AL-PB-103 Aluminum Platform Body
Description
Knapheide has recently supplemented their steel flatbed line with aluminum. The new aluminum bodies are economical, durable and reliable, and are certain to catch your eye as you see more and more of them on the road.
Features
Platform bulkheads are available in both rectangular (pictured) and tapered configurations. Other configuration options include refuse sides like those pictured separately,
Specifications:
Length: 10' 3"
CA: 72-84"
Long sills are an extruded aluminum structural channel
Reinforced stake pockets are sized to accept Knapheide side options
Swivel-style, D-ring tie-downs rated at 2,000 lbs are ideal for securing large or heavy cargo during transit.
Knapheide spent years designing and testing their new aluminum platform body product line to ensure that each model was lightweight but not light duty.
Series Specifications:
Available for SRW and DRW vehicles in 7'–18' lengths
Composed of Military-grade aluminum extrusions, resulting in a body that is 40% lighter than steel
Assembled entirely from Grade 5 hardware and structural rivets that are coated specifically not to corrode with aluminum materials
All marker, clearance and I.D. lights are LED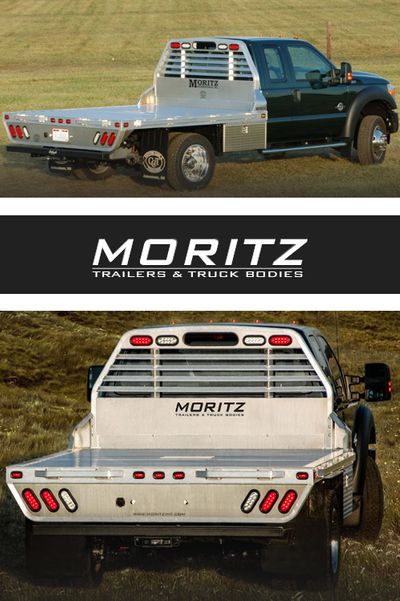 Moritz TBA 8'6" Aluminum Platform Body
Description
The Moritz TBA aluminum platform body is manufactured in Mansfield, OH, in accordance with rigorous specifications for durability and reliability. The model pictured here includes an integrated gooseneck hitch, twin toolboxes mounted under the bed and an ICC bumper.
Features
Extruded Aluminum Floor
Cast Aluminum Gooseneck Hitch Cover
5" Adjustable Main Rail (34" to 42")
Gooseneck Hitch Plate
Adjustable Headache Rack
Specifications:
Chamfered Corners
52" Tall Headache Rack
3" Taller Main Sills
Bed Rail Kit (4" tall)
Wire Harness Adapter
The TBA Series features an extruded floor (new), stake pockets and rub rails (side and rear), and an integrated gooseneck hitch w/cover.
Series Specifications:
5" Adjustable Main Rail (34" to 42")
Pipe Reinforcements Between Stake Pockets
2 Year Limited Warranty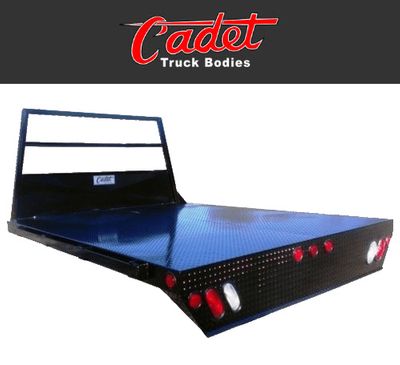 Cadet Bronco B7-84 Platform Body
Description
The Cadet Bronco B7-84 steel platform body comes with a weatherproof wiring harness, all-weather undercoating, side pockets and rub rails, and a 12-gauge tread plate floor.
Features
38" Tapered Header w/Crosstube
Side Pockets & Rub Rails
7 Red & 2 Amber LED Clearance Lights
Specifications:
Length: 84"
Width: 84"
Weight: 615 lbs
Three sizes of Bronco flatbeds are available; they all are heavy-duty beasts of burden that will lighten your load and increase your productivity.
Series Specifications:
All Weather Under-coating
Weatherproof Wiring Harness
Lengths of 84", 102", and 108"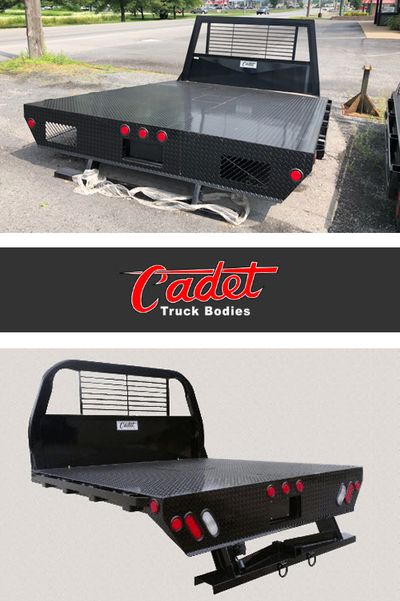 Cadet Western W9-96 Platform Body
Description
The Standard Western is a step up in quality from the Bronco, and offers options like a gooseneck compartment with ball capable of handling up to 30,000 lbs. The W9-96 includes side pockets, stamped taillight holes, and all-weather undercoating.
Features
The Western model features 4" structural channel long sills, 5" structural channel step, and weatherproof wiring harness.
Specifications:
Length: 108"
Width: 96"
Weight: 1,000 lbs
Cadet Western platform bodies are available up to 1485 lbs. Standard features include 1/8" nominal tread plate.
Series Specifications:
Recessed Tag Bracket w/Light
7 Red, 2 Amber Clearance Lights (LED)
40" Tapered Header w/Sunshade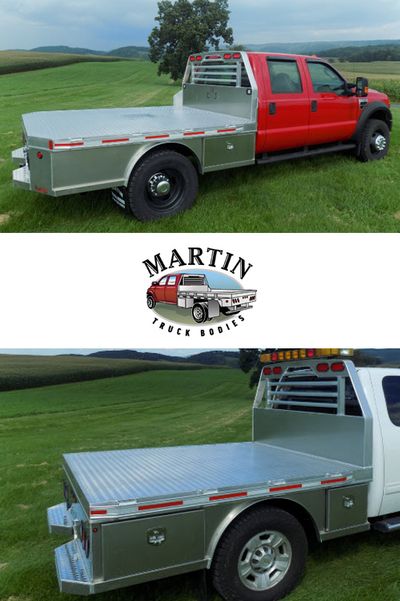 Martin SB Platform Body
Description
The Martin SB skirted Platform Body is an attractive and functional bed. The basic model includes two built-in toolboxes, but you can customize to include up to four, or none if you prefer.
Features
The SB models pictured here demonstrate two different toolbox configurations and skirt styles. Bodies are available in lengths of 80", 88", 104", 112", and 136".
Specifications:
Length: 88" (multiple lengths available)
Width: 84" (multiple widths available)
Ford and GM 6-1/2 Bed Delete, 1500 through 3500 Model Single Wheel (specify your truck year/model and cab-to-axle measurement when ordering to ensure a proper fit)
Martin truck bodies are manufacturered regionally right here in Pennsylvania. The company specializes in aluminum truck bodies, with many styles and options to choose from, including four bulkhead designs and various flooring options.
Martin Flatbed options include:
8" or 12" Side Boards and Tailgate
Custom Built Top Deck Boxes
Front Upright Boxes.
Martin Truck options include:
Tow Hitch with 2-1/2" Receiver
Strobe Lights
Backup Camera