BROWSE DUMP BODIES BY OUR VENDORS
Dump bodies are popular and flexible truck bodies useful for a variety of different jobs. 
Models included on this page provide just a sampling of the more popular ones - many other models are available through Hostetler. Make sure to read the Vendor section of each listing for additional information on related models, accessories, and options.
Browse Dump Bodies by our Vendors
Why Should You Choose Hostetler as Your Installer?
Choose us for the added value that comes from decades of experience. Not only do we work with top-line vendors, but we can do the type of custom work that separates quality from quantity. Recent dump body installations have included our "slop shield" fender/flap combo that we believe will add years to the life of your dump if you're dealing with Pennsylvania winters.
This pintle/receiver hitch combo is a good example of the kind of flexibility we can build into your installation. And we can easily add a cab protector (and a little extra security) to your bulkhead. Contact our Sales team to find out more.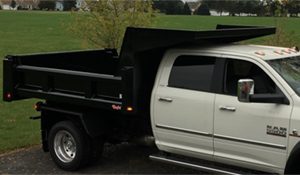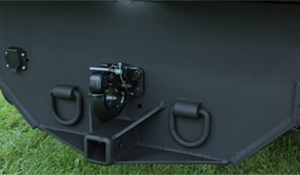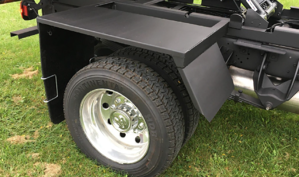 Rugby Eliminator LP Dump Body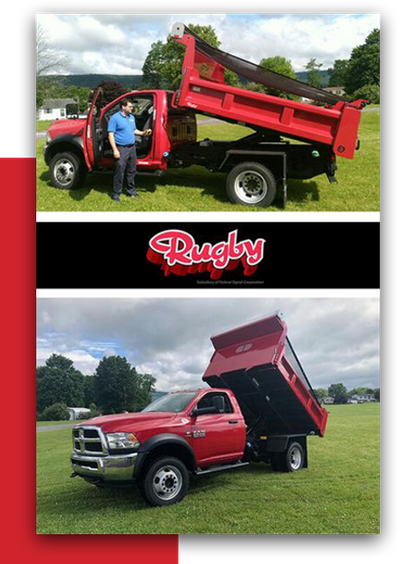 Description
The Rugby Eliminator LP is a hard-working dump body in the landscape and light construction industries. If you're looking for a reliable and versatile dump body, consider the Eliminator LP.
Features
The subframe hoist will elevate the bed to 45 degrees.
Specifications:
Subframe Hoist
16" crossmember spacing
Standard ¼ cabshield with viewing window
Tarp Cover
Fenders and Mudflaps
Rugby's Eliminator LP Dump Bodies are available in 9', 11' and 12' lengths.
Series Specifications:
Primarily constructed of 10 ga and 12 ga materials
Side design includes fully boxed dirt shedding top rail and a sloped bottom rail for a completely self-cleaning profile
Martin Contractor Dump Body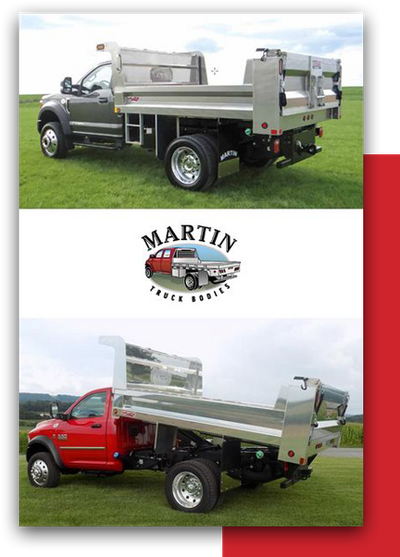 Description
The Martin Contractor Dump Body features a smooth postless design with inner and outer walls of 3/16" 5052 material.
Features
Double acting tailgate, cam lever lower clamp, and quick-release upper clamp. Standard hoist is a Double Acting Scott Scissor.
Specifications:
3" crossmembers are 12" on center
LED lighting
Mud flaps & splash shields standard
"Avalanche" dump bodies from Martin are available in stainless, steel, and aluminum. Beds from 8-12' are available with sides of 12", 18" or 24" in height.
Series Specifications:
12"-36" cab protector options available
Standard Tailgate is 6" higher than sides.
Standard floor is 1/4" 5052
Electric or PTO available for hoist
Knapheide KDBDS-912A Drop Side Dump Body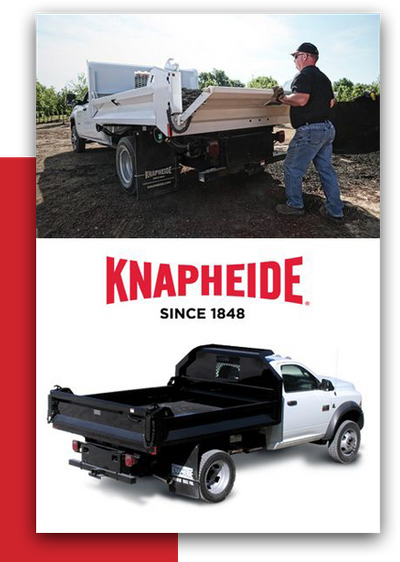 Description
This Drop Side Dump Body from Knapheide is constructed of high-strength steel for unmatched durability. Features a crossmemberless understructure for low maintenance and rust prevention.
Many industries including landscaping, lawn maintenance, construction and municipalities have come to rely on Knapheide Drop Side Dump Bodies to safely and efficiently haul and dump bulk materials.
Features
Cab protector, Knaphoist. Sides and tailgate feature self-cleaning sloped top rails and lower rails for dirt shedding. Double panel tailgate construction with 12 gauge HY50 outer panel and 10 gauge HY50 inner panel. Tailgate features a one-handed quick release lever for easy drop-down action
Specifications:
Length: 9'8"
Side Height: 12"
Capacity: 2.50 cu. yd.
Weight: 1,397 lbs.
Knapheide Drop Side Dump Bodies are the premier light duty dump bodies for class three to five chassis.
Series Specifications:
2.5 and 4.0 cu. yd. capacities available
9' and 11' lengths for 60" and 84" CA Cab & Chassis
8+ ton hoist capacity
Tamaqua Drop Side & Rigid Side Dumps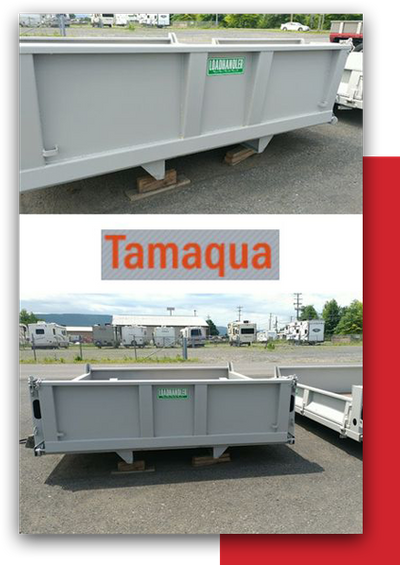 Description
Two Tamaqua models are currently in stock; one drop side model and one rigid side model. Tamaqua offers great customization options, especially if you need/want to swap out an existing bed for a new one. Contact us to find out more!
Features
Pictured models are currently in our inventory for quick installation or cash & carry.
Specifications:
Length: 9' for both models
Drop Side model has 12" sides
Steel Flooring
For 60" CA DRW Vehicle
Since 1969, Tamaqua Truck and Trailer Co. Inc. has been manufacturing steel and aluminum bodies that are built "truck tough."
Series Specifications:
Steel Construction
Quality Workmanship